So I have this friend who is learning that having kids in school = tons of artwork coming home.
What to do with all the art???
You know you can't just throw those masterpieces away....and if you do, your precious little one better not find out!!!
When my oldest was in a preschool program that meant two to three things he couldn't part with a week, it piled up quickly. Rather than keep them all, and eventually become buried under glued macaroni and hand turkeys, I came up with this: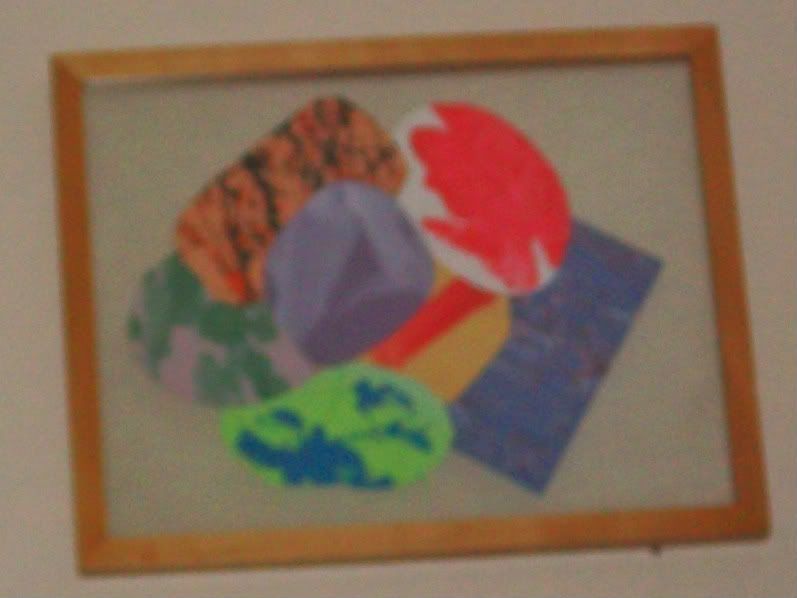 I made collages out of pieces of his art and framed them in float frames. I made one for him to keep and one for each set of grandparents. Aidan's still hangs in his room today.
Over the years, we have used school art to make cards. The very best art pieces get framed and wrapped for gifts for family members.  I am still a little sad that Aidan picked his favorite piece from last year to be a birthday present for his uncle.
Huge projects, 3-d things or art projects that are too fragile to reasonably keep are the hardest. I take pictures of the art, then we throw it out.
I've learned that it is impossible to keep everything, and I go through the piles of paper every so often and weed out the things we don't need to hang on to.
I am planning to get a large art portfolio for each of the kids to keep the big things safe. Otherwise, each of them has a storage tote in the basement to keep their treasures in from school. If the box gets full, something has to go in order for something else to fit.
It helps if you involve the kids in making decisions about what stays and what goes. If for instance they bring home a big pile of art, before even going through it, tell them they can only keep a few and to pick their most favorite.
Trust me, you don't want to get caught throwing something away.
As Aidan once told me (about a million times in a row after discovering something in the garbage), Mom, this is not trash!