Only because I love you all so much, I will share this super easy recipe.
Now, don't get me wrong. I do love the canned jellied cranberry sauce. I prefer it in it's natural can shaped form, not sliced or defaced in any other attempt to make it appear fancy. In fact, it took me a while to perfect the removal so that I could keep it in unblemished can form.
I am quirky. What other possible explanation is there?
But seriously, I love cranberries. As much as I do adore them in gelatinous form, I like them other ways too. For years I bought the canned whole cranberry sauce and no one ate it but me. Then last year, for whatever reason, I decided to make it from scratch. And you know what? People ate it. Like, actual other human beings, ate it.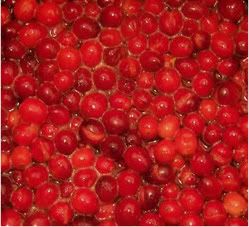 I made too much and ended up keeping a huge bowl of it as leftovers. Poor Aidan was bringing it up from the basement fridge and tripped, spilling cranberry sauce all over the carpet. Nothing says day after Thanksgiving like steam cleaning your carpets, right?
Anyhow, here is the recipe. This amount is probably sufficient for 8-10 people unless they really love cranberries. Just be careful with the leftovers. Don't say I didn't warn you.
Cranberry Sauce
- 12 ounce package of fresh cranberries, rinsed
- 1 cup orange juice
- 1 cup sugar
Combine all ingredients in a medium sized saucepan. Bring to a boil and cook until berries pop. Takes about 10-12 minutes or so. Remove from heat. It will thicken as it cools. Be sure to make this fairly early on in the day so it is cool enough to set and eat. Put it in the fridge before the meal if you prefer it chilled.