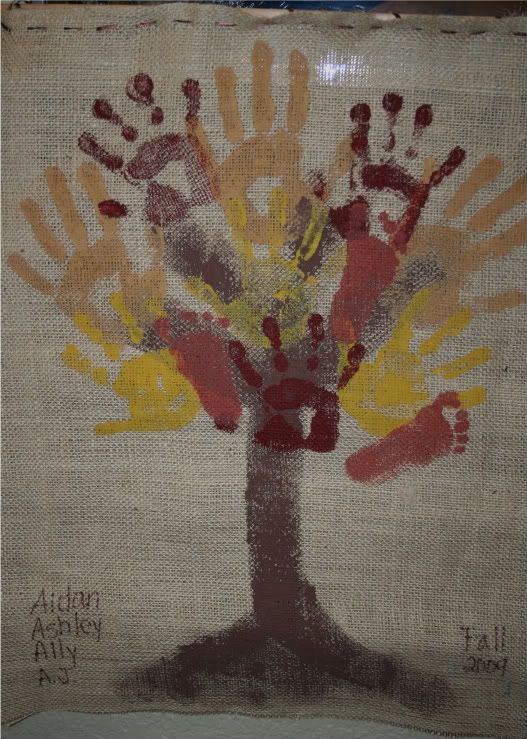 Handprint Tree

I made this with the kids last year and absolutely love it. I made ones for each set of grandparents too, so that they will always have a seasonal decoration with reminders of how big (or more correctly, little) the kids were that year.
It is really simple and inexpensive to make....well worth the effort. When I put it up this year, it made me smile.
Materials:
- One piece of burlap, about 18 inches by 2 feet
- Ribbon or yarn, about 2 yards
- Acrylic paint in shades of brown, gold, orange and red
- Paint brush (wider, about an inch at least)
- Narrow wood dowel
- Sharpie
- Paper plates
- Newspaper
First create the pocket on top for the dowel. Fold over the top of the burlap about two inches and thread the ribbon or yarn through, stitching about every inch or so. Be sure that the dowel fits. Make sure to place the stitches far enough away from the edge that it won't pull through. Leave edges untrimmed.
Place layers of newspaper beneath burlap to protect the surface you are working on.
Paint the trunk with wide strokes, making it wider at the base.
If you have more than one child, assign each one a color. Put paint into paper plates in thin layer and have them rub their hand around to coat thoroughly. Starting with oldest (biggest hands) first, start placing hand prints on the tree, trying to space evenly but leaving room for the other children. If you have only one of two kids, mix up the colors (still assigning them though). Layer the hand prints, fill in the spaces.
If you have a baby or toddler, it may be easier to use their feet since they tend to squish the paint between their fingers and try to eat it rather than being cooperative.
After all the hand prints (or footprints) are places, let it dry overnight.
Add the year and names of the kids with the permanent marker, then thread the dowel through and tie off the ribbons.