These are almost exactly like the cranberry bliss bar from everyone's favorite addictive coffee shop. They are basically blondies with white chocolate chips and cranberries, topped with frosting and awesomeness.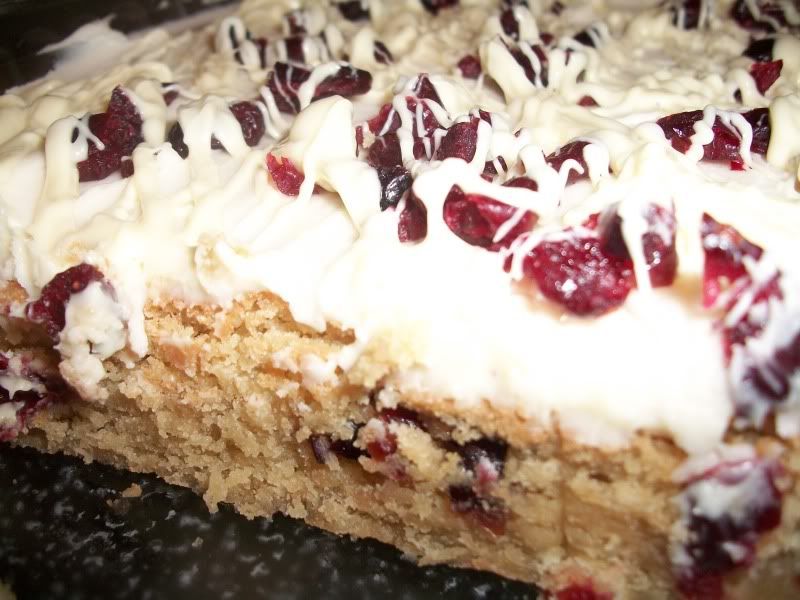 I made them in a 9x13 pan, and next time I will definitely use a bigger pan. They are so rich that you really just need a little piece.
I found several versions of this recipe online and combined them into what you see here.
White Chocolate Cranberry Bars
- 2 sticks butter, softened to room temperature
- 1/4 cup sugar
- 1 cup brown sugar
- 3 eggs
- 2 tsp baking powder (high alt, use 1 1/2 at lower elevations)
- 2 tsp vanilla
- 1 tsp ground ginger
- 2 cups flour
- 1 cup craisins
- 1 cup white chocolate chips
Preheat oven to 350. Cream butter and sugars. Beat in eggs one at a time until light and fluffy. Add baking powder, vanilla and ginger and combine thoroughly. Add flour a cup at a time. Fold in chips and craisins until just combined.
Pour into greased pan and spread so it is even. If using 9x13 it will take about 28 min. If using a larger pan, check at about 22 minutes. You don't want to overcook them, they are done when toothpick comes out clean.
Cool completely before frosting.
Frosting
- 1/2 cup cream cheese, room temperature
- 1/4 cup butter, melted
- 1 tsp vanilla
- 4 cups powdered sugar
Combine cream cheese, butter and vanilla. Add sugar a cup at a time until desired consistency is reached. Frost cooled bars.
Topping
- 1 cup chopped craisins
- 1 cup white chocolate chips
- 1 tsp vegetable oil
Sprinkle craisins over frosted bars. Melt chips in microwave and blend with oil. Drizzle over bars and let set before cutting.