I have this friend who may be one of the only people I know crazier than I am. That's saying a lot.
Elisa. The woman seriously needs a cape.
She makes cake pops. And yes, they are exactly what they sound like. Cake in the form of a lollipop. Or, in other words, heaven on a stick. Her first ones were in the shape of tiny Hello Kitty heads and they were perfect. I totally don't believe that they were her first ones, by the way.
I just knew she'd be making some this week for Thanksgiving, and I was right. These ones are shaped like turkeys. TURKEYS! Love them.
If I can find the motivation and a
huge
block of time, I am so attempting to make these....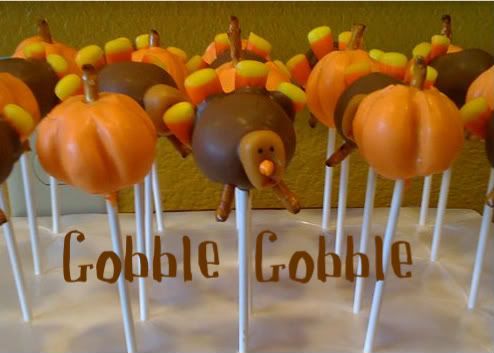 Turkey Cake Pops
- 1 box cake mix (I used chocolate flavor and cook as directed on box for 13 X 9 cake)
- 1 can frosting (16 oz.)
- Wax paper
- Light cocoa colored chocolate candy melts(1 lb. pkg.)
- Lollipop sticks
- Candy corn
- Caramel candy
- Mini rainbow candy coated chips
- Pretzel sticks
- Edible ink pens
Bake cake according to box. After cake is cooked and cooled completely, crumble into large bowl. I use a food processor as I like that consistency best plus it's less messy on your hands.
Mix thoroughly with 1 can frosting. (I use the back of a large spoon. But, be warned, it will get messy. Also, you may not need the entire can of frosting, so start out by using almost the entire can and add more if you need to.)
Roll mixture into quarter size balls and place on wax paper covered cookie sheet. (Should make 45-50)
Place the cake balls in the refrigerator to firm up a bit.
Melt chocolate in the microwave per directions on package.
Take the cake balls out of the refrigerator.
Dip the tip of your lollipop stick in a little of the melted candy coating and insert into the cake balls. (Insert about halfway.)
Place them in the refrigerator to firm up some more (or if you're pressed for time, place in freezer for a little while to firm up.) I use the refrigerator as it is less likely to crack the candy melt.
Start working on the turkey heads by cutting the caramel candy in halves.
Mold the caramel halves into round-oval shapes or whatever shape you desire for the turkey head.
Press an orange color candy coated chip for the turkey's beak and set the heads aside.
For the turkey legs, break the pretzel sticks in thirds and set aside the ends only.
Start placing 4 candy corns for each turkey cake pops on the wax paper to form the turkey feathers.
Once cake balls are firm, carefully insert them into the candy coating by holding the lollipop stick and rotating until covered.
Once covered remove and softly tap and rotate until the excess chocolate falls off. Don't tap too hard or the cake ball will fall off, too.
Place the candy coated cake ball on the "feathers" and fix the "feathers" as necessary (but don't take too long or the candy melt will firm up).
Take one of the caramel heads and place on the cake pop and then insert the pretzel turkey legs on.
Leave the turkey cake pops on the wax paper to dry.
Once dry, draw eyes and wattle with an edible ink pen and allow ink to dry!
Note: You may also use mini heart sprinkles as the wattle if you desire.
I *think* and could be wrong, that she uses a piece of styrofoam covered with wax paper to stand them in when done.
Thank you so much for sharing this recipe, Elisa. I know how much these are a labor of love! Happy Thanksgiving!!!